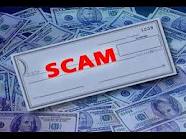 Recently the Texas Attorney General ordered a Texas roofing company to refund customers money they were scammed out of. The Houston based Holden Roofing Inc. will be giving refunds to homeowners who signed contracts they were told was a free inspection of their roof, when they were actually signing contracts to do the repairs.  If the homeowners went with another roofing company, Holden Roofing would demand the homeowner pay a penalty of 15% of the total roof replacement costs.
Read Your Contract Carefully
Unfortunately, these are not isolated cases.  It just reminds us to read our contracts, and be careful what we sign.  If you do realize you made a hasty decision, the Texas Home Solicitation Act gives homeowners the right to cancel contracts within 3 days of signing.
Check Them Out
Sometimes it's tricky to spot a scammer.  Holden Roofing targeted homeowners in storm prone areas.  If someone comes to your home and offers a free roof consultation, ask them for their home office phone number and contact the Better Business Bureau in your area to check them out before you sign anything or let them on your roof. Sometimes your homeowner's insurance agent will also have a list of reputable and not so reputable roofers and contractors in your area.