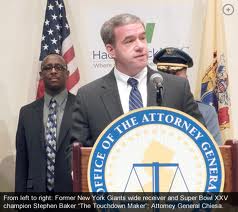 The lawsuit comes from nearly 70 complaints for John Kot and Gabriel DeSilva allegedly performing substandard work or no work at all after being paid.
The two men have several businesses, including A-1 American Construction Inc., Brick City Chimney Service LLC, American Chimney Limited Liability Company, Brick Chimney Service and Cleaning Inc. and Roofing Police or Roofing Squad.
Some of the complaints were shoddy roof repair work and when the roof problems became worse and the roof leaked, the defendants refused to fix it despite making promises and guarantees. Refusing to return customers deposits for work that was never done, not honoring guarantees or warranties in contracts and not obtaining necessary state or local permits.
Fraud In Several Counties
The complaints came from Union County, Somerset County, Monmouth County, Middlesex County, and Morris County. The state wants restitution for Kot's and DeSilva's customers.
The lawsuit was filed in State Superior Court in Bergen County. The defendants are charged with performing home improvement work in a substandard manner which resulted in dangerous and/or unsafe conditions for consumers, in some cases constituting a potential fire and safety hazard. State Attorney General Jeffrey S. Chiesa said "we allege that these defendants defrauded consumers of their hard earned money".
Of all the businesses operated by Kot and DeSilva, the only two I found at Better Business Bureau of New Jersey were A-1 American Construction Inc., and Roofing Police, both have an alert attached.