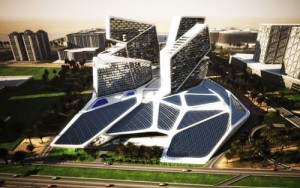 Solar roof panels have become an popular green roof solution that offers many economical and environmental benefits. As one of the world's frontrunners in innovative ideas, Dubai is considering a bold move in the generation of power.
Powerful Moves
Dubai is home to many technologically advanced buildings, including a proposed solar village. The city also has one of the fastest growing energy consumption rates in the world, leaving the city with a million dollar problem. In order to compensate for the near 24 GW electricity habit, the city's electric companies are actively considering buying back the power generated from residential and commercial roof buildings.
The city conducted a study last year to determine how much local businesses and private solar panel owners were generating for their own use. The average 5MW of electricity production quickly enticed city officials into crunching the numbers of revenue for purchasing the power back from residents and building owners. If approved, the leases on these solar roof materials is expected to significantly lower costs for the city, as well as bring a little money to the pockets of Dubai occupants.