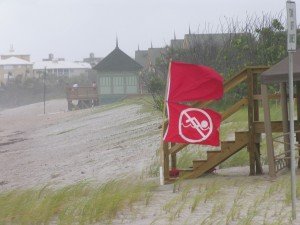 Fall is a magical time of year where we build campfires and the leaves begin to change, but with the changing season also comes increased threats to your roof. Hurricanes are especially problematic this time of year; and if you live along the coast now is the time to prepare your home for the potential for upcoming storms.
Coastal Living
While living beachside may be appealing nine months out of the year, the other three are can be quite challenging. High moisture and high winds are two factors that can quickly lead to roof damage. When a hurricane comes along, an already damaged roof is likely to lead to disaster.  Here is how you can prepare:
1. Inspect your roof before hurricane season starts. — Make sure your roof is in top condition before the storm rolls in.
2. Repair any missing or damaged shingles on the roof. — Having an already compromised roof can be the basis for denying an insurance claim down the road.
3. Take pictures and keep receipts of any maintenance work on your roof. — You are more likely to win your insurance claim if you can prove the roof was in good condition before the storm.
4. Consider purchasing a higher wind and water resistant roof material, like metal. — Metal roofs are more durable for coastal climates than traditional asphalt shingles.