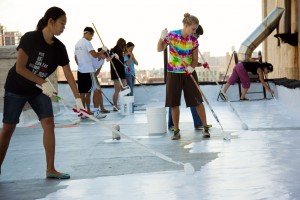 A relatively new trend among roofing products is roof paint. Many roofers feel that painting a roof can produce many benefits for homeowners, as well as help protect the environment. While roof painting hasn't quite made its way into the green roofing movement, you can't argue with the facts.
Why Paint?
Roof painting is common for metal roof owners that want to change the aesthetic appeal to their roof from time to time. Recently, more people have begun painting other roof materials in order to take advantage of some of the  benefits roof paint has to offer.
It is reported that painting a roof white can significantly reduce the energy consumption of a home. The white roof paint reflects the sun's rays, thereby lowering the heat absorption of the home. Roofers estimated that a white roof coating can deflect 85% of sun rays and lower the surface temperature of the roof by 50 degrees. A cooler roof means cooler interior and less need for energy consuming air conditioners.
Energy experts also note that a reflective roof coating can directly impact the environment by reducing carbon emissions through less energy consumption and improve  local air quality by eliminating ozone toxins. The U.S. Secretary of Energy, Steven Chu, has said that painting roofs white would reflect enough sun rays back into space, creating a green house saving effect equal to removing a vehicle from the planet for 11 years.