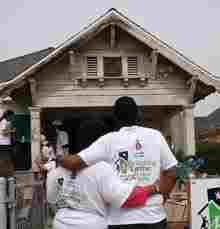 The Carrie-Steele Pitts Home in Atlanta received a heartfelt birthday gift for the children's home 123rd year anniversary. On October 15, 2011 more than 100 volunteers installed new roofs, painted, made repairs to electricity, carpentry and plumbing for the residential apartments and spruced up the landscaping.
Volunteers
The Rebuilding Together project volunteers; CNA global business insurer, NRCA National Roofing Contractors Association, Land Improvement Contractors of America and the Georgia chapter of Mechanical Contractors Association of America were on board for a day of major repairs and renovations. Chris Grundy, television DIY star, and radio personality James Carey were also there to help out.
Over 20,000 Children Passed Through This Home
The Carrie-Steele Pitts home is the oldest child care home in the United States. The home has provided for over 20,000 of Atlanta's children and young adults with all inclusive care, education and shelter.
CNN and Rebuilding Together
"CNA and all of our construction association partners are proud to provide the elbow grease for these rebuild day renovations," said John Tatum, vice president – Construction, CNA. "The repairing of damaged roofing, replacing windows and doors, installing new bathroom facilities, flooring and interior walls, will serve as a wonderful commemoration for all of the work and the strong impact CSPH has had on the children of Atlanta."
Rebuilding Together is a non-profit organization. With a network of over 200 affiliates they provide free rehabilitation and critical repairs to the homes of low income Americans.