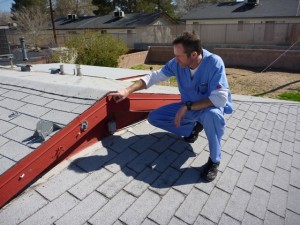 Buying a home can be a scary experience. With all of the considerations that need to  be made, often one of the most overlooked aspects of buying a home is the condition of the roof. Even if the inspection doesn't reveal any major need for roof repair, there could still be issues that should be considered prior to buying the home.
Getting The Green Light
The average home buyer knows nothing about roofs or whether the roof of their home could need help unless there is obvious signs of damage. There could be water damage, mold, pests or even structural issues with a roof that are not visible to the naked eye. Before putting in an offer on a home do the following:
Ask the inspector for the full report on the roof's condition. Often times a roof will pass  inspection, but still be in need of repair. Even if the roof damage is not a current threat, a single storm could result in major damage. Find out what the chances of needing repair are in the next two to three years and his estimate as to the remaining life of the roof.
Hire a roof contractor to perform an independent inspection. Roof contractors are more diligent in their inspection of a roof than a traditional home inspector. Not only will they be able to tell you the basics about the condition and age of the roof, they will be  able to tell you whether any repairs have been  made to the roof and if these repairs are holding up well. Most roofers charge less than $200 for a typical inspection, money well spent to have a professional evaluate the condition of your home's roof.
Ask the previous owner for details about the roof. While the seller isn't required to disclose non-essential information about the condition of the home or roof, they may be willing to share with you basic information. Find out when the roof was installed, whether it is still under warranty or if they have any paperwork from the original roofer that installed the roof. There is no guarantee that you will given this information, but it never hurts to ask.