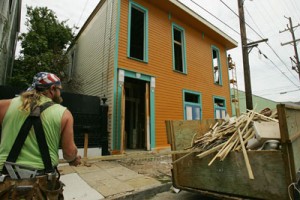 Although the real estate market has been in turmoil for a while now, home investors haven't lost steam. In fact, many people who "flip" houses for a living have found the foreclosure saturated market to be quite lucrative. However, not all home investors are out to produce the highest quality product and some cut corners in areas that could be costly for the buyer.
Cutting Corners, Adding Risk
The sole mission when flipping houses is to minimize cost and maximize profit. Unfortunately, this sometimes means skimping on materials and leaving out essential renovations. When it comes to roof repair or replacement on a home intended for flipping, more often than not the roof is neglected. What tends to happen on a home undergoing quick renovations for a quick sale is that the roof is patched to meet basic code requirements. If the home does get a new roof, it is often the bottom of the line and cheapest roof material. This leaves the buyer with some additional tasks to ensure they get a quality home.
If you are considering buying a renovated investment property or house that has been in foreclosure, make sure you look for the following:
A detailed disclosure statement from the seller, which may discuss potential issues with the home.
A sale history of the home to be sure the home hasn't transferred hands more than twice in the last 90 to 180 days, this could be a sign of a bad investment track record.
A warranty of any work completed, especially for the roof repair or replacement.
A report from an unbiased inspector to ensure that the work was completely properly.