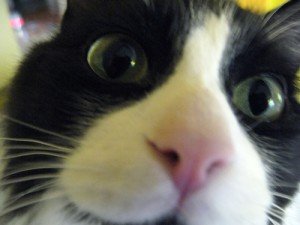 In a home near Seattle Washington, 2 cats were stuck on a neighbors steeply graded roof for 3 days, afraid to come down. People with ladders and water hoses were unsuccessful at retrieving the frightened cats.
Unable to find a local company specializing in animal rescue from steep roofs, the kitty's owners called Norm Hoglund of Jorve Roofing. Mr. Hoglund set up a ladder to the highest part of the roof and within 5 minutes had retrieved both of the cats.
Onlookers were amazed at the ease of which he descended the ladder with one arm while holding a cat with the other. When the cat owners asked how much they owed him, Mr. Hoglund said there will be no charge, and that Jorve Roofing was glad to help.