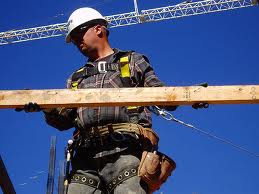 The Occupational Safety and Health Administration (OSHA), have new regulations concerning safety practices for roofers. Department of Labor recorded 299 deaths caused by workers falling from rooftops between 2003 and 2010.
The new directive rescinds the Interim Fall Protection Compliance Guidelines from 1999. Employers for residential construction were allowed to use alternative methods of fall protection versus the conventional fall protection. This new directive states the construction employees must comply with the Federal Regulation 1926.501(b)(13) and may no longer use alternate safety methods.
Federal Regulation 1926.501(b)(13)
From the United States Department of Labor website; "1926.501(b) (13) "Residential construction." Each employee engaged in residential construction activities 6 feet (1.8 m) or more above lower levels shall be protected by guardrail systems, safety net system, or personal fall arrest system unless another provision in paragraph (b) of this section provides for an alternative fall protection measure. Exception: When the employer can demonstrate that it is infeasible or creates a greater hazard to use these systems, the employer shall develop and implement a fall protection plan which meets the requirements of paragraph (k) of 1926.502."
Note: There is a presumption that it is feasible and will not create a greater hazard to implement at least one of the above-listed fall protection systems. Accordingly, the employer has the burden of establishing that it is appropriate to implement a fall protection plan which complies with 1926.502(k) for a particular workplace situation, in lieu of implementing any of those systems."
NCRA Appeal
The National Roofing Contractors Association (NCRA) lost their appeal in court when they tried to challenge the new rule. In their suit NCRA stated that the directive must be issued as a new standard, because it subjects employers to requirements that they have not had to meet since 1999. "OSHA is overstepping its bounds because it doesn't understand the industry," said Tom Shanahan of the NRCA. "They're making a rule that is making it, in many cases, more costly to roof and less safe."
Fines
Some roofers are complaining that the added cost of the new safety rules has to be passed on to the homeowners. While other contractors are skipping the rules and are able to give cheaper bids to the homeowners. These contractors are willing to risk the fine of approximately $2,500 for non-compliance in order to get the roofing jobs.
Commercial roofers have already been using the directive required fall protection, but now we will be seeing more of the residential roof contractors doing the same. Another decision a homeowner has to make is if they will be paying roofers that follow OSHA safety practices or not.