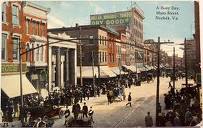 Whether the home owner likes it or not says the south Norfolk Virginia Historic Preservation and Architectural Review Board and the Norfolk City Council.
The 106 year old historic house is owned by Justin Loar and is need of a new roof.  The visibly rusted metal roof is currently being covered by a blue tarp. The boards were unanimous in its decision that the historic home will either get a new metal roof or keep the one it has now.
The homeowner petitioned to replace the roof with asphalt shingles due to the expense of a new metal one at $16,000.   Loar said he didn't know about the guidelines and does not want to take out a second mortgage on a roof that will cost more than what the house is worth.
The City Council claims there is only a $60 difference between a new shingle roof and repairing the metal roof. The owner and his representative, dispute those quotes saying they have been unable to find a contractor willing to repair the metal roof for that cost.
Some residents say the Historic Preservation Board is trying to maintain the historic value of the neighborhood, while others say the area is run down and owners shouldn't have such strict restrictions when trying to upgrade the homes.