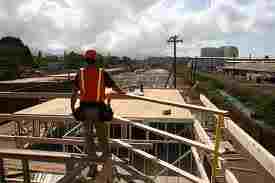 The debate still is going strong over the new OSHA fall-protection rules. The stricter safety rules went into effect on September 15, 2011 after a 17 year exemption for residential contractors. Congress is getting involved in response to complaints by people in the building and roofing industries.
Senator Clair McCaskill gets Involved
10 St. Louis area homebuilders are the latest to file complaints regarding the harsher rules and hefty fines for violating them. Senator Clair McCaskill set up a conference call for the St. Louis homebuilders to air their concerns with OSHA officials in Washington.
Could Cost Jobs
Opponents of the new OSHA safety rules say it could add on to the price of a home by thousands of dollars. And in this economy, it could end up costing jobs. The builders are complaining about the severity of the extensive fines, up to $7,000 per worker per violation. The builders are saying they need common sense flexibility in their safety procedures.
632 Deaths From Falling
Not everyone in the building industry is opposed to the tougher new laws. According to the government, since 2006, falls have been responsible for 632 deaths in workers in the residential construction industry.
"I don't think OSHA is picking on anybody. I think they're trying to do their job. Some of the people complaining are the ones who are trying to fly under the radar" said the safety director of the Carpenters District Council of Greater St. Louis.
US Labor Dept. Gives Grace Period
Labor Department Deputy Secretary, Seth Harris has agreed to give builders with a good safety record a 30 day grace period to get in compliance and builders that are attempting to comply with the rules will receive a 10% reduction in fines.