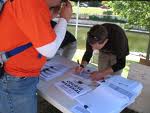 If you have been looking for a way to enrich your community, volunteering is a great way to make a difference. Not only will you be improving the lives of others, but you will benefit from meeting new people and possibly learning new skills.
If you are a hands on type of person and aren't afraid of hard work, you may be interested in volunteering your services re-roofing and repairing roofs for families in need. There is no shortage of opportunities in your neighborhood or in other countries if you find that more appealing.
Some of the well known organizations such as Untied We Serve, United Nations Volunteers, and Habitat for Humanity have volunteer programs. But you might also try asking around your local churches, schools, community centers, and senior centers for families in need.
You can form your own "do it yourself" group of volunteers. When you find a family in need of roof repairs, post a sign on the bulletin boards and free web advertising in your community asking for volunteers. Call the roofing companies in your area and ask if they would be willing to donate materials, offer to contact the local media and publicize their generosity.
Not all volunteers need to be on the roof, some can provide transportation, make sure there is plenty of water to keep the volunteers hydrated, prepare lunches, make phone calls and keep the project organized and on track.
Often times home repairs take a back burner to food and basic living costs in these tough economic times. By helping our neighbors, ordinary people can achieve extraordinary things.