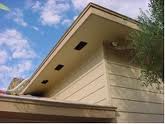 When you have made the decision to re-roof your home it may be the right time to replace some other roof related materials. The common replacements are gutters, downspouts, repairing or replacing the fascia and soffits, vents and insulation.
Deteriorating roof edges must be repaired before new roofing materials can be applied and often times this means removing the gutters. If your gutters are in bad shape, it will be hard to remove them without damaging them further and sometimes they are too bad of shape to try to put back up. If your contractor will be installing new roof drainage system it can be completed the same time as the roofing project.
If the fascia and soffit materials are broken or water damaged they will need to be replaced. Materials include aluminum, vinyl, plywood or hardboard. You can also replace soffit materials with ventilator openings. Regardless of the material used it is generally easier to do a replacement rather than trying to re-cover the damaged areas. Old weather worn areas will not hold a nail well and rotting can easily occur on the back of the boards.
Ventilation in attic spaces helps avoid summer heat buildup and moisture condensation in the winter. The circulation is through intake vents in the lower areas of the attic space, such as soffit vents and then through outlet vents in the upper roof areas.
Your roof contractor can go over these issues with you when you are getting estimates for your roof repair or replacement. By visiting do it yourself building type retail outlets and searching online you should be able to get a good understanding of the products available to you and best for the climate you live in.