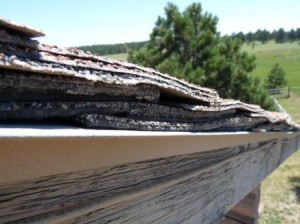 Many people assume that they can cut corners in the cost of roof repair and replacement by simply adding a new layer of roof materials over an existing layer. Although there are some instances in which this may be an acceptable practice, but there are some things to consider before having the job done.
Proceed With Caution
One of the most obvious reasons that having multiple layers of roof materials installed on your home is the potential for safety hazards. Too many layers of roof materials can be heavy, stressing the weight management abilities of the underlying supporting base. For this reason, many states have laws to regulate the number of layers that is approved for a home. Having too many old roof layers under new  materials can be a code violation, that could make insuring or selling a home difficult.
Multiple layers also increase the risk of fire and pest problems. Between layers can be great breeding grounds for termites, ants and other pests. In hot or moist temperatures, the multiple layers can also be the base of mold, mildew and toxic growths.  Not only are all of these factors potential safety hazards, but they decrease the durability of the materials and increase the need for future maintenance. Further, many manufacturers will consider a warranty null and void if the new roof is damaged due to failure to remove existing layers.