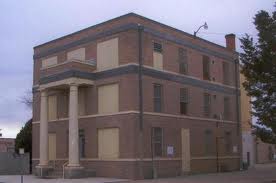 The 256,000 square feet Floyd County Jail serving Floyd County and the City of Rome in Georgia will soon be getting a new roof. Built in 1982 and renovated in 1998 the 30 year old roof needs to be replaced.
During a mock fire drill they found damage to the electrical wiring, light fixtures and ceiling tiles caused by the leaky roof.
Once the County Commission caucuses approve the bid on Tuesday, inmates at the 828 bed facility will begin repairing the jail roof on Friday. By purchasing the materials and using the inmate labor, the new roof is expected to cost less than $195,000. Some previous estimates on the roof were around $900,000.
20 Year Warranty on Materials
Negotiations were made with the roofing materials supplier to ensure the 20 year warranty would still be valid using inmate labor instead of using a licensed roofing contractor. Chief Deputy Tom Caldwell said "it's getting the best bang for the taxpayer's buck."
Once the work begins they will use helicopters to remove the heating and air conditioning units from the roof. The sheriff's office found it is cheaper to use the helicopters than renting a crane to replace more than a dozen of the 60 roof mounted units each year.