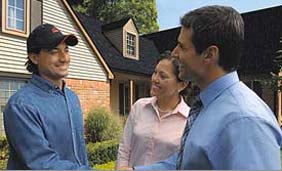 No two roofs are alike, and the same is certainly true of roof contractors. In fact, each zip code in the U.S. has more than a dozen roof contractors in the business listings. Each roofer will offer different advice, opinions, products and processes for repairing or replacing a roof.
The most important aspect to roof repair is getting multiple estimates from different contractors.  For many people, a roof estimate can often be confusing or overwhelming. However, there a few things any homeowner can look for to be sure they have the best estimate for roof repair or replacement.
Attention To Details
Not all roof contractors have written estimates or show these estimates to the homeowners.  It is important to obtain a written copy of the roof estimate and review the information before agreeing for any work to be completed. A professional and quality roof estimate will include:
Description of the work to be completed

i.e. repair or replacement

Specifications about the roof materials to be used

ie. shingle type, flashing and underlay materials

Exact pricing for the roof work

ie. cost of materials, labor

Description of any financing or installment arrangement

ie. amount of payments, dates payments are due

Determination of start and end dates of the work
Description of who will complete the work

ie. contract and crew, crew only

Details of contact information during and after work is completed
Obtain The Paperwork
It is the responsibility of the homeowner to make sure they have all of the necessary documentation of the roofing project. Warranty information is the most important piece of documentation in a roof repair or replacement job. If there are any problems in the future, the warranty information can save the homeowner lots of time and money in obtaining future help with the roof. The homeowner's insurance company will also want copies of any work that is done in order to file any claims on the roof project.