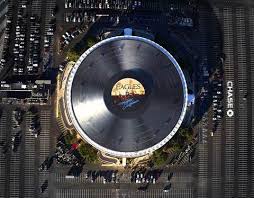 Through the end of January for a publicity stunt, the Inglewood California Forum will have a 407 foot diameter vinyl record on their rooftop. Hotel California by the Eagles is spinning at 17 MPH, actually just the center is spinning. The record will stay up until the end of the month to commemorate the eagles being the first band to perform at the Forum since the renovation. When the month is over, the record will come down and the standard white roof materials will once again be visible.
The Inglewood Forum spent 100 million dollars to renovate the iconic building in Los Angeles. The LP was designed and built by New York Marketing Company Pop2Life. The roof top record required 25 tons of material, 15 LED lights, 1 mile of aluminum framework and over 5 acres of printed vinyl.
The Forum is the country's largest indoor venue focusing on music and entertainment. The Forum was first opened in 1967 as a home for the Lakers.
Roof Top Record Tiles
On a related note, Jayefull and Matt Glassmeyer are using recycled records and CD's to tile roof tops of porch overhangs, sheds and other semi enclosed areas. Considerations on which material to use could be that CD's reflect the heat while the black vinyl records absorb it.
While the material cost is low, performing roof repair on vinyl tiles could be quite a hassle since you can't nail directly into the CD's or records due to the brittleness of the materials and they break easily.
Using records may not be a trend for your home, but they are working out fine for people who have used them on their garden sheds and overhangs.