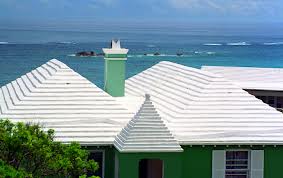 If you are looking to save on your energy bills and considering a white roof, there are two very useful websites to check out. The White Roof Project and the Cool Roofs Rating Council sites can show you how to paint your roof, what types of materials have the best reflective properties and help calculate your savings. These two sites as well as information from your local roofing company can answer most to all of your questions about white roofs.
White roof project was founded in 2010 by professional film director Juan Carlos. According to their website whiteroofproject.org "Millions of rooftops in America are made of tar and they absorb an enormous amount of heat during the summer months. By coating black tar roofs with a white solar-reflective pain we immediately reduce temperatures inside and out."
The website has plenty of information if you want to add a white roof to your own building or want to volunteer or donate to get buildings in the New York City painted white. All the roof painting is done by volunteers. Nonprofits and low income buildings can be submitted for sponsorship that will incur no project cost. Sierra Club also partners with WRP in communities across the nation.
In case you were wondering, not all roofing materials are the same, white roof paint is not the same as reflective roof coating. White paint does not have any waterproofing properties and will last only a couple of years. This is where the other site is helpful.
The nonprofit group the Cool roofs rating council rates the "radiative properties of a roof surfacing materials." Coolroofs.org. the council was created in 1998 "to develop accurate and credible methods for evaluating a labeling the solar reflectance of thermal eminence (radiative properties) of roofing products and disseminate the information to all interested parties."
As well as checking specific products ratings you can also find rebates and codes. You can get reflective ratings for asphalt shingles, wood shingles, metal, stone, concrete, coatings and more.