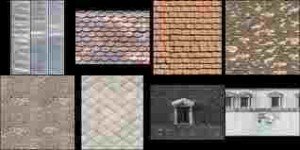 When choosing a roofing material, an important consideration is how much maintenance will the roofing material need. While some are nearly maintenance free, others require more effort into keeping your home attractive and dry. Roofing products are also greatly affected by the climate you live in. The lifetime of the roofing products also vary with the materials used.
Tile, metal, clay or concrete roofs generally do not need much maintenance. Clay, concrete and slate are the most durable roofing products. They are heavy and resist being blown off in high winds and usually carry a lifetime warranty. Metal roofs, although lightweight are extremely durable, a 50 year warranty is common.
Asphalt Shingles Most Common Roofing Material
The usual damage to roofing products is torn or cracked shingles, loose or missing asphalt shingles, wooden shakes and shingles. These products can be purchased in small amounts and individually replaced as needed on your roof. Wood shakes are available in different grades varying their durability. High quality shakes usually carry 50 year warranties. Asphalt shingles also vary widely in quality, they should last at least 20 years, while the thicker architectural shingles are warrantied up to 50 years.
Roll roofing has the shortest warranty, usually between 6 and 12 years. Small holes or blisters can occur in roll roofing, in most cases easily repaired by roofing cement and patches.
Talking to your roofing contractor will give you practical ideas and recommendations for the type of home you have and the climate you live in.