Clay roofing tiles date back 5,000 years ago to China.  Tile roofs are fireproof as well as long lasting and beautiful.  Clay tile roofs have long been the standard of attractive, durable and heavy roofs, especially currently in the southwest.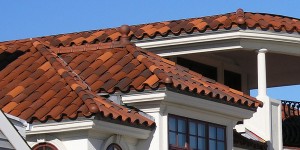 Gaining popularity are concrete tiles developed and mass produced in Europe in the early 1900's.  The tiles are fireproof, immune to rotting, termite and rodent damage.  Concrete tiles resist weathering of all types and grow stronger with age.  Concrete tiles can be installed up to 40% faster than traditional clay tiles.
Concrete tiles are a couple hundred pounds lighter per square foot than clay tiles. Clay tiles also become heavier when they are wet. Concrete tiles cost less than clay, shakes and some metal roofing materials. Concrete tiles come in many shapes and colors.  The concrete tiles are molded with a ridge on the back that hooks over sheathings making installation easier than traditional clay tiles.
A new roof built to code can easily handle the weight of tiles.  Clay tiles are usually over 1,000 pounds per square, while concrete tiles are in the range of 750-900 pounds per square.  If you are putting a new tile roof on your home, you may need to add some additional framing or joists for the extra weight. Your roofer, contractor or tile distributor can help you evaluate your needs.