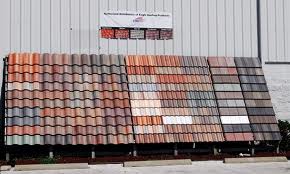 Roof tiles are designed to keep the elements out and provide an attractive durable roof for your home or business. Traditionally the tiles are made from locally sourced materials like clay or slate.
Clay tiles date back 4 or 5 thousand years to when it was a roofing material in China. Clay roof tiles are widely used throughout southern and southwestern states.
Mineralized steel tile comes in panels and makes for rapid application from roofers. The bituminous coated galvanized steel panels are called Decramastic roof tile, the units are lighter, easier to handle and less expensive than conventional clay tiles.
Man Made Materials
Concrete tiles and concrete fiber reinforced tiles are one of the most durable of all the roofing materials. They are usually sold with warranties running to as much as 50 years. These tiles are fireproof, immune to rotting and termite or rodent damage. They resist weathering of all types and actually grow stronger with age.
Slate tiles have a distinctive look and can be quite expensive. The slate is fireproof and relatively low maintenance. The tiles can be heavy and fragile.
Synthetic roof tiles are made with polymers and rubbers combined with fillers to make them durable, lightweight and weather resistant. Made to look like traditional tiles without the weight they can be installed without reinforcing the roof. Most synthetic roof tiles come with a 50 year warranty.