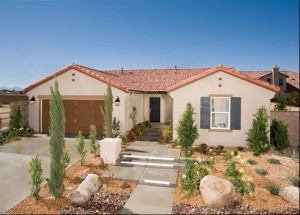 Lancaster California is home to the first battery powered, solar paneled house with roof tiles claiming to reduce as much pollution as the average car creates annually.
The 4 bedroom, 2 bath, 1519 square foot home, received the roof tiles embedded with a catalyst that helps reduce smog causing nitrogen oxide pollution when the catalyst is exposed to sunlight.
This prototype home was built by KH Homes and BYD, a manufacturer of clean energy technologies, providing the solar panels, solar energy batteries and electric vehicle outlets, and the roof tiles manufactured by MonierLifetile.
Meeting the EPA's energy star guidelines, eventually this home will be offered for sale in the low $200,000 range.