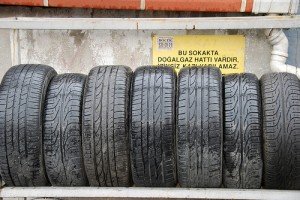 The roofing industry has really changed with the advancement of technology. New roof products now come in just about every style, color and material imaginable, but that isn't even the best part.
Trash Into Treasure
These days most of what many people consider trash can be recycled into roof materials. The push for environmentally friendly roof products has really sparked creativity in the manufacturing and recycling industries. One of the easiest materials to recycle into roof products is old tires.
The rubber from old tires can now be recycled into roof shingles that are longer lasting and more durable than some traditional roof materials. As an alternative to traditional asphalt shingles, recycled rubber shingles are becoming a popular green roof material.  These recycled shingles can be made to mimic the design of a slate tile shingles, asphalt shingle and even a wood shake shingle.
Not only are recycled rubber shingles an earth friendly option that offers flexibility in design, they are more durable than most other roof shingles. These shingles do no warp, rot crack or leak; leaving homeowners with less risk of damage or need for maintenance. Even better, most of these rubber shingles come with a 50 -year guarantee; that is nearly double the lifespan of other roof products.