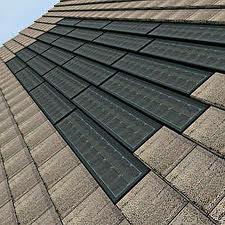 Dow Chemical and a Fort Worth Texas based Homebuilder D.R.Horton will be showcasing the new Dow "Powerhouse" shingle in a Denver suburb. Dow called its new solar shingle "a revolutionary new roofing product that combines the performance and protection of a conventional asphalt roof with an integrated photovoltaic (PV) system that powers the home. It is designed to install, look and function in a way that has never been done before."
It is not clear how much the shingles will cost or how much energy they will create, but the company says the shingles will be cost-competitive and the total cost will be less than buying the components separately.
Low Cost Photovoltaic Cells
The shingle made by Dow based in Midland, Michigan, will unveil its new Powerhouse shingle at the Spring Mesa project in Arvada Colorado. The company says the shingles will be in a dozen other states next year. The technology from Dow Solar Solutions integrates low cost, thin film CIGS photovoltaic cells into a proprietary standard asphalt shingle materials.
Innovation
Jane Palmieri, Managing Director of Dow Solar Solutions said, "Consumers reap the benefits of our innovation. This is about providing roof protection and electricity generation all from one product, with lower costs, improved aesthetics, easier installation and long-lasting performance".
Easily Installed by Roofing Contractors
Roofing contractors are showing enthusiasm for the product since they don't need solar array installation knowledge or special skills to install the shingles.