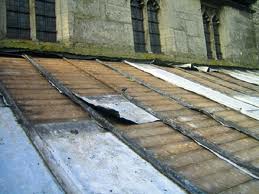 Lead and copper theft has increased in the last couple of years due to a rise in the international commodity prices. Many churches in the UK are taking new measures to protect their churches and metal roofs.
Yorkshire, Cambridgeshire and Suffolk churches are getting alarms for their metal roofs. Insurance carrier Ecclesiastical insures 97% of the Angelican Churches in the UK.
Insurance Claims Skyrocket
In 2011 the insurance company received 2,600 claims for metal theft. Ecclesiastical director of church insurance, John Coates said "It will make churches a harder target for criminals' intent on stripping the nation's heritage of roofing lead for their personal gain."
St. John the Baptist Church in Broadstone was targeted 2 consecutive nights after completing a £100,000 restoration. The thieves stole lead from the roof causing water to leak into the newly refurbished church; they are using tarps to help keep the water out. Members of the congregation are now checking the roof for thieves every 15 minutes when it is dark.
Oxfordshire church roof was sprayed with 'theft detection liquid'. Using ladders and hydraulic lifts, firefighters sprayed the liquid onto the Wantage Parish Church roof. The liquid has a unique code that can be read under ultraviolet light, allowing police to trace the metal back to a particular building.
Some churches have stopped using lead for their roof since the theft problem is so bad. Using other roofing materials has become an option for some UK churches. a Slough church is using a rubber substitute for their new roof since thieves hit them twice last year.