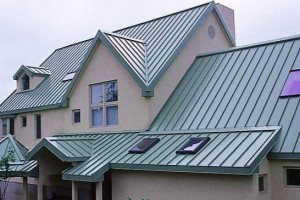 Over the years roof materials have stayed somewhat steady in their composition. Although some green roofing improvements have spurred the need for more recycled products, many roofing materials are similar to what they were made from 100 years ago. One aspect of residential roofing that is changing in recent years, is the shift towards non-traditional materials.
Metal Reigns
Metal roofs have been used in commercial roofing for numerous years. Although some residential homes to boast a metal roof, the majority of homes are still made from asphalt shingles or clay tiles. As the benefits behind metal roofs become more apparent, more homeowners are looking to metal for their roof repair or replacement.
Metal roofs can be made from aluminum, copper or steel. Not only can they be recycled into new roof products, but they are also easily made from old scrap metal. Further, metal roofs can last upwards of 40 or more years, a good 10 to 20 years more than a traditional residential roof material. Metal roofs are perfect for wet, hot, cold or windy climates; which gives them a very versatile edge in the market. They even come with the added benefit of being a great material for applying a white roof coating, a material that is energy efficient and improves the home's ability to maintain constant temperature.