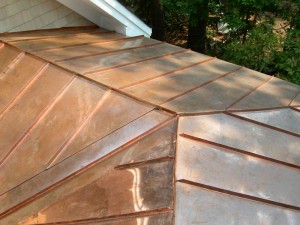 We have all heard of criminals stealing metal pipe and wires from builds to sell for a few dollars, but metal theft is now moving into new territory. As the economy challenges us to make ends meet, a new style of crime is evolving. Metal roofs have become increasingly popular among metal thieves, robbing many unsuspecting home and business owners of their roof materials.
In The News
Earlier this week, a church in England reported a significant portion of their metal roof was stolen for the third time. A Canadian business had its galvanized metal roof drip edges stolen by thieves, costing the business owner thousands of dollars in repairs and installation of an upgraded security system.
Thieves around the world are cashing in on the high demand for quality metal products. Since metal roofs are usually made from aluminum, steel or copper; thieves may be able to make significantly more when selling the stolen pieces to scrap yards.
Reliably Resourceful
Home and businesses owners favor metal roofs for two reasons (1) its durability and product life and (2) its aesthetic appeal. The cost of roof repair tends to be less with metal roofs as they, generally, rarely need repairing. Metal roofs offer a lighter weight alternative to traditional asphalt roof shingles and require less maintenance.  They also fit nicely into the green roofing lifestyle, as much of metal roof products are made from recycled materials.