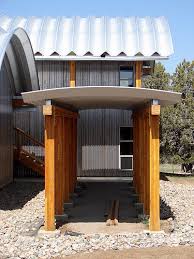 Metal roofing is durable and attractive, if properly installed it can last a very long time requiring little maintenance. Metal roofing comes in standing seam roofing, panel roofing and panels made to look like tile, cedar or slate. Standing seam metal roofing is crimped or soldered together and panel roofing screws down.
Copper roofs have been used in architecture for thousands of years. Stainless steel, copper or zinc roofing materials will require very little maintenance over their lifetime. These materials can last over 100 years. Polymer coated metal panels also will last a very long time and require little maintenance until the coating wears off. When the factory finish wears off, metal roofs graded AG or Utility will need to be repainted with acrylic or polyester based roof coatings.
Metal Roofing materials:
• Aluminum, one of the longest lasting metals
• Blend of zinc, aluminum and silicon coated steel, used mostly as a base under factory coated colors
• Copper roofs are corrosion resistant, durable and long lasting
• Corrugated galvanized steel. Wrought iron steel sheet coated with zinc and then roll formed into sheets
• Lead
• Metal tile sheets, usually painted or stone coated steel
• Stainless steel. Usually roll formed into standing seam profiles
• Stone coated steel. Panels made from zinc aluminum coated steel with acrylic gel coating. The stones are usually a natural product with a colored ceramic coating
• Tin
Check with your local roofing company and choose one with experience in installing metal roofing. Oftentimes they will be able to help you decide which metal roofing material is best for your needs and budget.