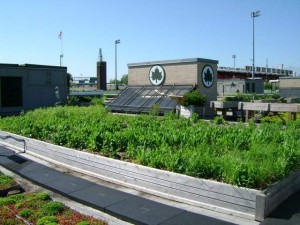 As more urban areas begin to utilize rooftop gardens for their many environmental effects, some buildings are beginning to face challenges in their green roof efforts. The roofs of many commercial and residential buildings are not designed to support the weight of a vegetable or plant garden. Luckily, advances in technology is making it possible by designing lighter weight roof garden materials.
Lighten Up
Along a rural town in the state of New York you can find an old family farm that is working on some unique roof materials that are taking the industry by storm. Outside of LaGrange, New York the Hitsman family farm is home to large Styrofoam bins filled with a mysterious looking product resembling soil.
Gaia Soil is a new type of gardening material made from recycled Styrofoam and extruded polystyrene. Coated with pectin, a complex carbohydrate often used in food and plants, Gaia soil can be used to grow plants just about anywhere. Reducing the weight load of traditional soil by nearly 75%, Gaia soil solutions make for a light weight solution for rooftop gardens.
Now buildings of just about any size can take advantage of a green roof solution that filters storm runoff, reduces energy costs and creates a healthier atmosphere.