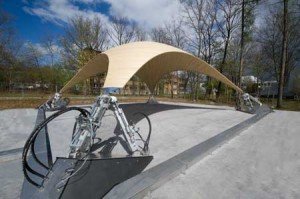 Researchers from the University of Stuttgart Institute for lightweight Structures and Conceptual Design have come up a lightweight wooden dome structure to adapt to changes in the roof load. Known as the SmartShell, the design incorporates hydraulic drives to adjust the structure.
The 100 square meters open air structure is currently displayed at the university's Vaihingen campus. The curved shell is made of 1.6 inch thick wood and has 4 supports at the corners. One support is stable while the other three have hydraulic drives.
Sensors Record the Load Status and Adjust Instantly
The shell has sensors in different locations which are linked to a control system. The sensors detect even the slightest change in the structural load, such as rain, snow or wind and the hydraulics react to compensate for that load keeping stresses to the structure to a minimum.
Stefan Neuhauser said "We give the structure some 'intelligence' by means of being able to react to varying loading conditions to reduce the stresses in the material as well as compensate for vibrations."
Drive and control technology experts Bosch Rexroth partnered with the university to develop the hydraulic units.
The scientists are hoping that the technology could be used for a wide range of structures including bridges, high rise buildings and stadium roofs. The SmartShell can minimize weight, cost of materials and structural fatigue.