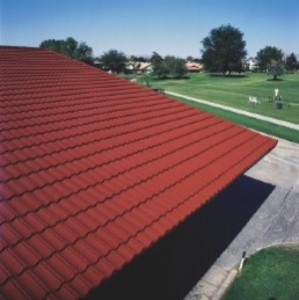 Most people never think twice about the roof material used on their home. However, this decision shouldn't be left up to tradition or history, but an intentional choice that maximizes the climate conditions where the home is located. Making a few adjustments to the type of roof product on a home can boost the energy efficiency of a home.
Choosing Wisely
New roof installation is the best time to look into newer or alternative roof products. Areas with a lot of sunshine are at a unique advantage to benefit from solar roof panels.  Installing a 10 by 10 foot solar panel can generate enough electricity to power the average American home. By eliminating the need for traditional energy sources a home can operate independently while saving money on utility bills and improving the environment. Just think what an entire city of solar roof panels could do for the environment?
Although sunny climates have the added benefit of making good use of solar panels, they also come with a cost. The heat index can reach staggering height in the summer months, making it harder for the home to stay cool. Stone tiles and lighter colored roof materials can help reflect the sun's UV rays and keep the home cool. Further, many new roof products come with environmentally safe chemicals that can help deflect the heat and insulate the home.
Cold or rainy climates also come with their fair share of challenges. Heating bills in the winter months can reach hundreds of dollars in homes that do not have proper roof materials. A dark coated roof can help absorb heat and maintain the homes warm temperatures far better than a lighter colored roof. However, despite their light color metal roofs are a good choice in some cold climates where snow is a problem. These roofs are very durable and known for their ability to inhibit snow buildup along the roof. They also fair well in rainy climates where increased moisture has the potential to cause water damage.