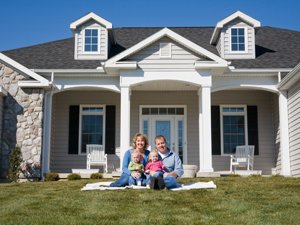 As homeowners, we take pride in the look of our homes. We cut the grass, trim the hedges, sweep the driveway and touch up the paint around the outside of the home. So why are many of us not taking the time to pick the right roof material for our home?
The roof is one of the largest structures of our home and it should be kept in good condition, just like any other part of the home.
When it comes to roof repair or replacement, many people spend less than 15 minutes choosing which roof material is best for their home.
There are many different types of roof materials, each with their own advantages and disadvantages. When considering which roof material would look best for your new roof, consider the following:
The style of your home
The style of your home says a lot about its features, the time period in which it was built and the overall appeal of the home. If you live in a Spanish style home, an earth tone, clay tile would be a great option to match the home's style. A Victorian or Colonial style home would look great with a dark colored slate tile or metal roof. The idea is to match the home's color palate while also adhering to the design features of the home.
The statement you want to make
With so many new roof materials available, many people are tempted to upgrade their roof using more modern materials. In general, using upgraded materials is a good choice and can even increase the value of your home. However, consider the re-sale value of the roof material you choose. Don't over personalize your roof, making it hard for potential buyers to see your vision or agree with your design taste down the road. If you aren't sure about your choice, ask your neighbor's opinion.
The quality you are looking for
Many roof materials now come in various levels of quality. Composite asphalt shingles come in many varieties, each with different levels of durability and warranties. A higher quality roof material may cost you a little more, but can save you money down the road by requiring less repairs and even save you money by making your home more energy efficient. Solar panels and recycled roof materials are high quality roof products that can improve the energy efficiency of your home, while helping the environment.