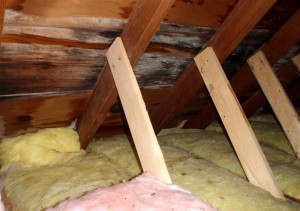 Even outside of hurricane season, high winds can be a problem for a roof. Homes with improperly maintained roofs are especially vulnerable to water leaks, gaps in the roof materials and problems with insulation efficiency. Anytime there is a storm it is important to inspect your roof for damage.
Far Reaching Effects
Many people experience roof damage in the form of broken or missing shingles. While this is certainly a common problem, high winds can also result in a separation of roof materials from the underlying base materials. This can cause a gap in  the fascia boards, attic vents, and other roof structures; all of which can increase the chances for water to get into the attic. Water damage can quickly spiral into mildew and mold problems, some of which could be hidden under insulation or in unreachable areas of the attic. Once this happens, the costs for roof repair and attic material replacement can be expensive.
The energy efficiency of any home is largely controlled by attic insulation materials. Most air leaks are found around skylights, vent pipes, chimney and the meeting point between the roof and sidewalls. Gaps in the roof and wall materials can allow for there to be airflow in the attic, allowing for the air heated or cooled from the house to escape, and allowing outside air in.
Have a roof contractor inspect your home after a major storm to ensure the roof is properly maintained. The small cost of a professional inspection can save you thousands in repairs that could have been avoided down the line.