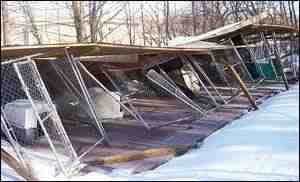 NY, Warwick Valley Humane Society receives donations and volunteers to replace one of the area kennels roof after it collapsed. The old roof covered the outdoor run section for the dogs. It protected the dogs from the heat of the sun and from rain. No one, including the dogs, was hurt when the outside structure collapsed under the weight of snow and ice.
Area businesses and volunteers donated free labor, cash and building materials. Contractor David Cutler replaced the roof, Specht's Auto Recycling donated a 30-yard dumpster for the debris, Roe Brothers, Mid State Lumber and Greenwood Lake Lumber donated materials and material transportation. More than a dozen volunteers provided labor and general help.
More Donations
Among others, donations came from Warwick Valley Rotary, Golden Hill Elementary School, St. Mary's in Tuxedo and Northern Windows and Siding, a "raise the roof" benefit by the Warwick Fire Department raised nearly $5,000.
Suzyn Barron, President of the Warwick Valley Humane Society said "We received wonderful support from our community and beyond. Our canine guests could once again enjoy the outdoors, breaking the monotony of being caged inside. The outdoor runs allow for exercise of their minds and bodies and helps to keep them from going crazy while waiting for their second and sometimes third chance for a lasting home."
For more than 40 years the Warwick Valley Humane Society has been managing the Warwick animal shelter. If you would like to make a donation, please call 845 986-2473.