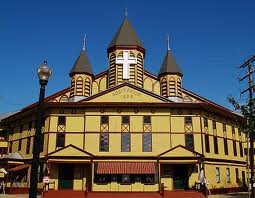 The Great Auditorium in Ocean Grove New Jersey suffered a damaged roof from Hurricane Sandy. The 89 mph wind gusts got under the 30 year old stainless steel roof and tore it off the building.
The 4,000 square foot roof section ripped off exposing approximately 20% of the auditorium. Jack Green of Green Construction said "It fell in one piece. Luckily, it didn't damage any more of the building.
Green Construction and Gannon Construction with a combined crew of 20 men started work on the auditorium on Thursday. Hurrying to repair the roof and protect the interior and the world famous pipe organ before the rain and snow from Wednesday's storm arrived.
Roofers Finished in Time for Next Storm
The crews finished the new roof by Tuesday evening, they were able to remove damaged plywood, repair broken rafters, and new deck and tarpaper were nailed down just in time for protection from the storm.
Camp Meeting Association, the owners of the Great Auditorium, tent area and beach pavilions estimated the roof repair will cost between $500,000 and $700,000. The boardwalk repairs are expected to be 4 times that amount.
Hundreds of volunteers arrived to remove debris from the beaches so heavy equipment could come in to do significant roof repair.
The Great Auditorium was built in 1894 and in 1975 Ocean Grove was designated a State and National Historic District. Inside the auditorium is a historic pipe organ that first played publicly in July 1908. The organ is not used during the winter months and in the warm months it is played during Sunday services, recitals and special events.