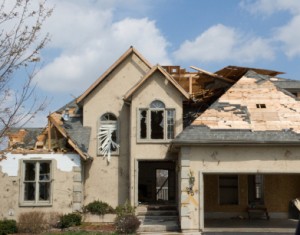 Much of the northeast was devastated by the Frankenstorm of 2012. Since the weather has improved, many families and business owners are returning to survey the damage. One of the most likely scenarios facing many is roof damage.
Rebuilding and Repairing
For some the future holds rebuilding in order to move forward after the storm's damage; for others, repairing may suffice. The common thread held by people in both categories is that insurance claim lines are going to be packed and the help offered by government agencies can take months.
One of the best ways to begin the process of roof repair or replacement after a major weather event is by surveying and documenting the damage. This means inspecting the roof yourself and taking pictures of the damage. It may even be wise to hire a roof contractor to perform a professional inspection of the roof.  In many cases, a roofer can provide you with an estimate for the damage and even help you gather the documentation required by your insurance company.
The bottom line is that you will need patience, both for gathering the necessary information and dealing with a backlogged insurance claims office.