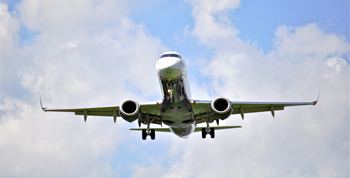 In Belfast, N. Ireland, victims have blamed low-flying aircraft in not one, but two accounts of roof tiles being dislodged earlier this month . Dan Melrose, of Parkgate Drive was leaving his home at 10:05 pm on Tuesday, June 8th, when he heard an aircraft going overhead. As he looked up, a roof tile was heading his way, he tried to get out of its way but it caught him on the side of the head. Mr. Melrose was shaken, but immediately telephoned the airport to complain.
The airport responded immediately by sending out a contractor to asses the damaged roof and then made repairs to ensure no water damage would occur throughout the night.
The following day, Mr. Melrose, 47, received treatment for a pulled neck muscle. A representative at George Best Belfast City Airport confirmed that although the aircraft was not flying low, they repaired the roof as a sign of goodwill. Residents near the airport are frequently complaining of the noise pollution caused by the increased influx of aircraft which is becoming more apparent as more destinations are being served.
In a separate incident, Jean Wright, a 55 year old from Oval Court, blamed low flying aircraft for ripping off roof tiles and roof insulation. The airport has again repaired the roof and admitted liability, but stated that the aircraft were all flying at the correct altitude at the time of flying over Mrs. Wright's bungalow.
Mrs. Wright's neighbor was inside her own property at the time and said the noise from the aircraft was very loud. Debris from the roof then falling into both the bungalow's gardens.
There has been an investigation launched into both incidents, carried out by the Belfast City Airport Watch resident's group, of which Dr. Liz Fawcett is the chairperson. The Civil Aviation Authority will also look into the damages caused by the frequently noisy aircraft.
Ref: http://www.belfasttelegraph.co.uk