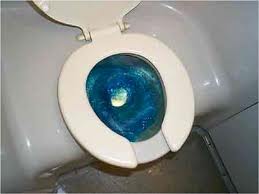 Two homeowners in Valley Stream N.Y. were surprised on Sunday by the sound of loud crashing noises around 3:30 a.m. Something ripped through shingles, roof decking and insulation and tore a hole in two neighbor's roofs. Fortunately no one was hurt considering the damage the objects could have inflicted on a person sleeping. One hole is reported to be large enough for a basketball to fit through.
One of the homeowner's roofer found a brown wet stain inside the damaged attic. The roofer determined it couldn't have been a bird making this kind of damage; it must have come from a plane. The roof repairs could cost thousands of dollars, and possibly even a new roof.
FAA Says Frozen Sewage Falls from Planes a Couple Times a Year
The FAA admitted this kind of occurrence happens a couple of times a year when airplane toilets leak and being at such a high altitude the waste freezes and breaks into chunks as it falls. Blue Ice as it is called is a combination of blue disinfectant and human waste.
An inspector from the FAA will go to the homes in Valley Stream, check air traffic reports from Sunday and then ask the airlines to check for leaks. To determine if they are at fault for the damage.