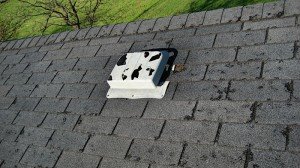 Hail can be a destructive weather element when it arrives in the severe weather season. Breaking windows, denting cars and causing significant roof damage, a hail storm can be a costly experience. Although most people do check their roof for damage after a storm, there are a few things people should know about roof repair after a hail storm.
Dents and Dings
A hail storm can do more damage than is visible to the naked eye. Although there may be some evidence of missing or damaged shingles, the underlying materials may also be damaged. Damaged underlayment can cause serious problems during the next rain storm or even when the summer temperatures being to rise. If the underlying materials get damaged there can be gaps, cracks or weak spots in the roof structure. These problems allow for water to get into the home and the heat can make a small crack a large one in no time.
Dents and dings may be visible, but not all roof damage is as obvious.  A good rule of thumb is to have a roof contractor evaluate the roof after a storm can save hundreds down the road in avoidable repairs. A roof inspection can also ensure that any damages related to the storm are covered by the insurance company, who often require the damaged be determined to be caused by the storm. Having a quote or inspection report of any damage immediately following the storm can be a valuable tool when filing an insurance claim.