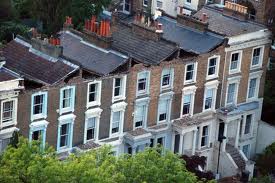 The Roof collapsed on 4 adjoining Victorian townhouses in Stockwell London Tuesday night. Fortunately everyone was able to run out of the collapsing building in time and no one was hurt. Residents said they heard a loud rumble just before the roof fell.
4 engines, fire rescue, ambulances and a helicopter equipped with thermal imaging cameras were sent to the L1 million dollar townhouses. There was a lot of rubble in the street and the rescue team used the thermal imaging to make sure no one was trapped beneath the debris.
Unknown Why Roof Fell
Structural engineers told residents it could be many things to cause the collapse, one of which is 'diurnal drift'. London experienced a change in temperature 17c in the previous 24 hours. They said other reasons could be too many layers of tile on the roof or the insulation could have been improperly installed and condensation made the roof too heavy, or improper roof repair.
So far the insurance company is hesitant to pay for the roof damage, they are saying the collapse could be normal wear and tear and that is not covered, or an act of God because of the heat wave, again not covered under the insurance policy.