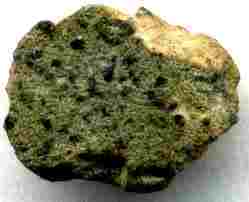 A family in France was surprised to find a 4.5 million year old meteorite had crashed through their tile roof and was lodged in their attic insulation.
The Comette family (really, that's their name) arrived home from their vacation and noticed their roof was leaking. When the roofer saw the hole in the roof he said: 'You need to be Superman to break a tile like that! It must be a meteorite."
Chrondrite Rock
The 3 oz. egg shaped meteorite came from an asteroid belt between Jupiter and Mars says Alain Carion a mineral scientist. "The iron-rich celestial rock known as a "chondrite" was easily identifiable thanks to a black fusion crust that characterizes the crossing of the Earth's atmosphere".
Estimated 10,000 meteorites hit each year
A surprisingly large amount of meteors crash through roofs with incredible speed and force.
Although the expert's figures vary, according to the British National Space Center, they estimate 10,000 football sized meteorites hit the earth each year.
Other Roof Hits
January 2010, in Lorton, VA a 308gram stone chondrite meteorite crashed through a dental office roof. In August 2006, a 25 ounce meteorite smashed a hole in a steel plate on the roof of a warehouse in Moss Norway. In 1954 a meteorite crashed through the roof of a house in Alabama. The homeowner was sleeping when the grapefruit sized meteorite fell into her bedroom.