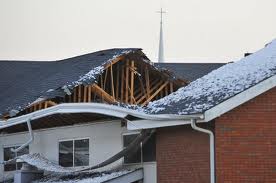 On Tuesday, July 20th, the roof collapsed at the Wall Highway Baptist Church in Madison County Alabama. No one was hurt when the roof from the second floor gym collapsed around 7pm. 7-8 people were inside playing basketball and ran outside just in time before a 10,000 square foot section fell onto the first floor gym.
Church officials were hoping the insurance would cover the clean up and repair costs estimated at $800,000. Unfortunately church leaders learned the roof collapsed because of an architectural design error and that cause is not covered by insurance. Clean up alone is estimated to cost $30,000. Church leaders say it could take years to raise enough money to repair the 20 year old building.
Church leaders have begun raising funds to pay for a new roof. The first of their many fundraisers is a Pumpkin Patch. The pumpkin patch has 2,800 pumpkins for sale from $3 to $20. Pumpkin patch hours are Monday, Tuesday, Thursday and Friday 2pm to 8pm. Wednesday 2pm to 6pm, all day Saturday and Sunday from 1pm to 5pm at the Wall Highway Baptist Church at 6597 Wall Triana Highway, Madison Alabama 35757. (256) 837-0971.