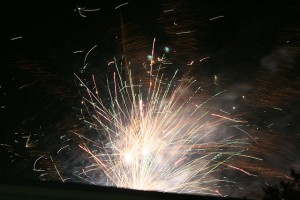 Many homeowners and their families will be celebrating our nation's independence day by gathering around the grill and lighting fireworks. While fireworks usually bring the fun, they can also bring an increased risk of fire danger. Each year hundreds of people are displaced from their homes because of roof fires caused by fireworks. Here is how to stay safe this holiday season:

Clean up debris – Dry leaves, sticks and trash tend to accumulate along the valleys of your roof and corners of the yard. These materials can quickly turn a small spark into a blazing fire. Regardless of the time of year regular roof maintenance and cleaning is important to the safety of your home.
Do not light fireworks in your own backyard – This is especially true for those living urban or densely populated areas. It is difficult to control fireworks in close quarters, and even a light breeze could blow a spark onto your roof.  If you are going to light fireworks, keep it minimal to something easily controlled like a sparkler.
Leave it to the pros—There really is nothing better than a professionally organized fireworks show. The family can enjoy more sparks and bangs, while there is zero risk to you and your home.