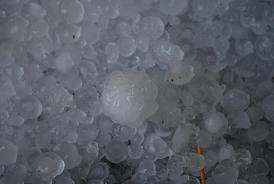 Roofing contractors in Cheyenne Wyoming are scrambling to repair thousands of damaged roofs. According to Bruce Wilson, the city's chief building inspector, 830 permits were issued by this time last year and over 3,000 roof repair permits have been issued since the two July hail storms this year. He estimates as many as 5,100 homes incurred roof damage.
Golf Ball Size Hail
The storms on July 12 and again on July 24th produced golf balls size hail. Intersections were flooded with water and hail. Residents and city employees cleared debris from storm drains until the city snow plow and front loader arrived to clear the intersections. It looked like a blanket of snow on the rooftops and ground in the middle of July.
More Permits
Contractors are speculating there will be many more roof repair permits as some homeowners have not inspected their roofs. Roofing companies are expecting to be repairing the storm damaged roofs for the next couple of years. Homeowners are being warned to beware of storm chasers who come into town and scam people into paying for roof repairs that will never get done. As always, check with the Better Business Bureau, ask for references and get their brick and mortar address and phone number.