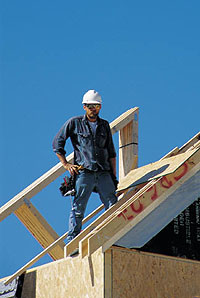 Roof contractors are plentiful, but not all offer the  level of quality and professionalism you deserve. When searching for the right roofer, homeowners carry the burden of effort. Knowing what to look for and what to avoid can save you time and money.
The Value Of Knowledge
Finding a reputable person to perform work on your home isn't easy. After all, you only know as much as the contractor tells you, right? Wrong! You have the power to educate yourself to the right and wrong aspects of roof repair. All you need to do is a little home work.
While there are online services available to help you gain information about local roofers, they certainly can't tell you everything. A good place to start your search is the Better Business Bureau, reviewing ratings of different service providers in your area.
Once you have narrowed down your search to three to five roofers with A+ ratings, give them a call.  Ask about their licenses and insurance. It is a good idea to request proof of these credentials in order to verify they are who they represent to be. Pick only those who have liability insurance, are licensed with the county or city and have been in business for numerous years.
By now your list should be getting shorter. Do a reference check by asking former customers their opinions on the work performed by the roofer in question. Good answers are honest ones, and only a former customer can give you insight into what you can expect.
Once you have a final list of those to consider, have each give you a bid on the job. While price is important, it isn't everything. Keep in mind that the quality of products being used and the warranty on labor is also an important factor in choosing the right roofer.