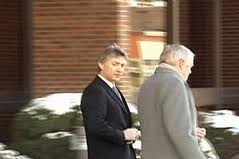 John Robert Mulinski a 50 year old resident of Covington Washington was sentenced to 5 years in federal prison for defrauding victims in Montana. He faces similar charges in Washington and California.
Mulinski is also ordered to pay $138,000 in restitution to the victims he defrauded in Great Falls, Flathead Valley and Hot Springs. Between June 2010 and February 2011 Mulinski operated as a roofing contractor for Sunrise Quality Construction in Flathead Valley Montana.
Defrauded Homeowners, Subcontractors, Advertisers and Employees
In the December trial the victims said he lied about his real name, took their money and either never started or never finished the roof job. Some victims said he changed his price during the roof repair and performed work that wasn't needed.
Other complainants were subcontractors, advertisers and employees that said Mulinski never paid them for their services.
Judge Donald W. Malloy presided over the trial where Mulinski was found guilty on wire fraud on December 9, 2011. During sentencing Mulinski apologized to his victims and said he hopes he can regain peoples trust in the future.
Wire Fraud Definition
18 U.S.C. § 1343 provides: Whoever, having devised or intending to devise any scheme or artifice to defraud, or for obtaining money or property by means of false or fraudulent pretenses, representations, or promises, transmits or causes to be transmitted by means of wire, radio, or television communication in interstate or foreign commerce, any writings, signs, signals, pictures, or sounds for the purpose of executing such scheme or artifice, shall be fined under this title or imprisoned not more than 20 years, or both. If the violation affects a financial institution, such person shall be fined not more than $1,000,000 or imprisoned not more than 30 years, or both.