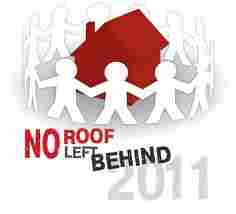 For the third year in a row Roofing Contractors, Ridgecon Construction in Shelby Township, Michigan, gave away a free roof to a family in need. Ridgecon owners Jay and Matt Elie, let the online community decide by casting votes for the families to receive a free new roof.
Single Mother Wins
Annmarie Earhart of Sterling Heights, was one of the three finalists in this year's contest.  Earhart is a single mother of three who was about to lose the insurance on her home if she did not replace her roof.  She has been unable to work in her career as a registered nurse for the last 3 years since she was hit by a drunk driver.
All the supplies were donated and Ridgecon Construction came out to her home on September 24th to install the free roof. Ridgecon Construction has been in business since 1994.  The "No Roof Left Behind" initiative came about when the Elie brothers spoke to hundreds of homeowners who were struggling in the bad economy.
Good People
"I think what they're doing is an amazing thing," said Earhart. "I could never repay them." Rosalie Gawrowski, Earhart's mother, said, "I think it's a blessing. It shows that there's still good people in this world."
Previous winners are the Brunicardi family of Macomb County and Debbie and Dave Hill of Sterling Heights.