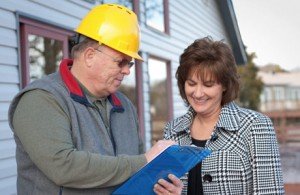 Owning a home requires a lot of maintenance, especially for important items like the roof. Anytime you need professional help repairing an aspect to your home it is important to know what to look for in a contractor. Hiring a roofer to conduct repairs or replace a roof is no easy task, as there are hundreds of roof contractors in your area competing for the same jobs. So how do you know if you have found the right one for the job?
Guidelines For Great Service
As a homeowner it is your responsibility to make sure the person you hire to conduct your roof repair is qualified and professional. It is important that you request written documentation of their professional licensing or credentials. Many cities and states require roof contractors to be registered with the local county office, something you should inquire with your local government about.
Another important document to obtain a copy of is the company's insurance policy. Make sure the company you choose is insured and current on their liability insurance to avoid potential trouble down the road.
Don't be shy about asking for references either. A high quality roofer should be able to provide at least two references of previous customers that you can contact.
Remember that you are the one paying for the work, which means that you maintain the right to obtain multiple quotes from different contractors, interview each and ask questions about how the work will be performed.  Anyone that is unwilling to take the time to answer your questions or is pushy about making the sale should send up a red flag.  Always use your instincts when choosing the right person for the job.