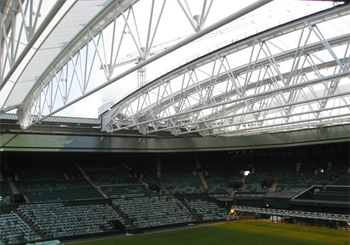 Although the new retractable roof on Wimbledon's Center Court was completed last year, it was decided that the 2010 Innovation of the Year Award would go to the the famous tennis stadium.
The retractable roof has allowed the three week long tournament to carry on being played, as many times over inclement weather has hampered proceedings. Rain and bad light affect the high profile games which are kept for Center Court, and it is only now that the air-conditioned stadium can be kept open to reduce the amount of refunds and upset fans from missing games. Center Court continues to hold a huge premium for seat tickets, yet the three weeks in late June/early July are always plagued with rain.
Now, with the moving roof that is also ventilated and see-through, natural light can still be enjoyed as well as a fully natural playing ground. The grass can be watered correctly, ensuring it has a good amount of water content as dry ground can cause the tennis ball to bounce differently. The roof also keeps the ground temperature at a constant level which ensures the promotion of grass and this will help the players. In recent years many players have slipped and blamed poor grass quality during the tournament, but the new roof can help combat this problem.
Populous, the design firm who organized the roof structure as well as the rest of the revamped Center Court, had the painstaking task of keeping the age-old heritage of Wimbledon, while bringing it firmly into the 21 st century.
The awards ceremony was held in Dublin, Ireland at the Stadium Business Summit just a few days before this year's Wimbledon tournament was due to start. The moving roof on Center Court has transformed the way the tournament will run in many years to come and improve the stadium thoroughly, it was good enough to take the top prize.